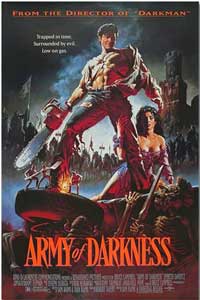 Currently I have over 150 DVDs. I have all of the "must have" titles, plus some other ones that are a little harder to find. The following are the top 5 DVDs that I own and enjoy to watch in my home theater:

5. Fight Club
4. Ghostbusters
3. Things to Do in Denver When You're Dead
2. Aliens: Part 2 of the Alien Legacy
1. Army of Darkness: 2 Disc Limited Special Edition

Some of my other favorites are: The Burbs', Bowfinger, The Mummy, Blade, Crouching Tiger Hidden Dragon, Mallrats, Kissing a Fool, Princess Mononoke, Spies Like Us, Nightmare Before Christmas, Swingers, Mr. Vampire, and From Dusk till Dawn just to name a few.